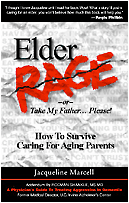 Author of "Elder Rage" and International Speaker on Eldercare, Alzheimer's, Elder Abuse, Breast Cancer, Obesity Epidemic.
Jacqueline Marcell barely survived as a caregiver to her 'challenging' elderly father and sweet ailing mother, both with Alzheimer's which went undiagnosed for over a year. But after fighting through the medical system, having her once-adoring father hauled off by the police for violence (choked her) several times to a psychiatric hospital where he'd promptly be released, numerous tears, and depleting her parents' life savings and much of her own—with sheer determination she solved the endless crisis medically, behaviorally, socially, legally, financially and emotionally.
Shocked by what she endured so needlessly compelled Jacqueline to give up her (by then stalled) career as a television executive to become an advocate for eldercare awareness and reform. Passion to save others (especially from elder abuse) resulted in her best-selling book, written with humor to make a tough subject palatable, "Elder Rage, or Take My Father… Please! How to Survive Caring for Aging Parents."
Elder Rage is a Book-of-the-Month Club selection receiving 500+ 5-Star Amazon reviews, 50+ endorsements including Regis Philbin, Leeza Gibbons, Denise Brown and John Hopkins Memory Clinic, is required reading at numerous universities for courses in geriatric assessment and management, and considered for a film. An extraordinary success story illustrating problem-solving and perseverance in the face of unrelenting obstacles, which helps caregivers put their situation into perspective and feel less alone. The writing is poignant, humorous, ironic and riveting, captivating the reader to absorb techniques for managing challenging elders without retaliation or running away. Extensive self-help section, resources and comprehensive addendum on treating aggression in dementia by a renowned dementia specialist.
Media Includes: TODAY, CNN, PBS Alzheimer's Documentary, AARP Bulletin cover story, Woman's Day, Prevention, and hundreds of radio/television interviews and articles.
Jacqueline's Missions Include: Expose elder abuse, neglect and exploitation; Help improve eldercare laws; Encourage long-term care planning; Show healthcare professionals how they can better help families; Empower caregivers with solutions, hope, and encouragement to put their health first; Advocate for Alzheimer's research funding and heighten early diagnosis awareness; Bring attention to Adult Day Care Services.
Honors Include: Jacqueline testified before the Assistant Secretary on Aging and received a Media Award from the National Adult Day Services Association—and was honored with Advocate of the Year from the National Association of Women Business Owners at their Remarkable Women Awards.
Jacqueline's Edu-Taining Presentations feature a triumph over adversity message and can be modified for any group (CEU/CMEs). She is also a breast cancer survivor and advocates for care of the caregiver. Hundreds of presentations include to: California Governor Conference, National Security Agency, National Academy of Elder Law Attorneys, Alzheimer's Association, Area Agencies on Aging, and Florida House of Representatives.
For booking information contact:
Stacy Anderson
(949) 544-1410